Are you paying too much at your RI Medical Spa for Botox ?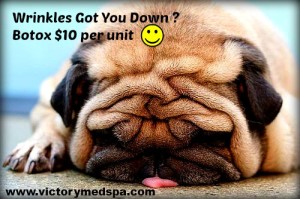 As more people search for that fountain of youth to help erase some of the ravages of time from their faces, Botox treatments have become main stream in many areas of the country.  Much like coloring your hair every month to cover the grays, millions of women and men in the US receive Botox treatments every 3-4 months to keep up a more youthful appearance. So how do you know if you are paying a fair price for your treatments?
At Victory Medical Spa in RI, we see many new patients for Botox who were getting treatment elsewhere. Surprisingly, most do not actually know how much they received previously. They just know how much they paid.
Facial anatomy, depth of wrinkles and other important factors will vary among each of us, so we all do not need the same amount of Botox. For a basic example, a younger person on average would need less and a male would usually need more than a female due to stronger facial muscles. It is for this reason we charge per unit.  Since each of us is unique, we believe it is only fair to charge a patient for how much they actually need to produce the desired result.
For those that are familiar with paying by the unit and know how much you pay, in RI a fair price would range between $10 – $12 per unit.  But some medical spas in Rhode Island charge by the area ranging anywhere between $300 to $400 per each area.
If you are paying by the area and are curious to see if paying by the unit is a more affordable option, the below calculations are based on Victory Medical Spa's regular Botox price of $10 per unit.
Area One: The frown lines or 11′s which is that scowl between the eyes that can make us look stressed or angry usually costs between $150 -$300 meaning the average person needs anywhere from 15-30 units to get an effective result.  Most females can get a great result with 20 units or less, while males usually need more.
Area Two: The forehead wrinkles cost runs between $100 – $200, which means 10 – 20 units of Botox to relax those horizontal lines
Area Three: Crows feet eye wrinkles cost runs between $120 -$240 , which means 12 to 24 units depending on the severity of the crows feet.
James A. Gallo, MD, a board certified and licensed medical doctor performs all the injections.  You can check out our website at www.victorymedspa.com for more info or Call Kim at 401-458-0825 with any questions you may have or to make your appointment.  Come find out for yourself why we are the best at what we do with the most affordable pricing around.
Victory Medical Spa 780 Victory Hwy #3, West Greenwich, RI 02817 (401) 458-0825